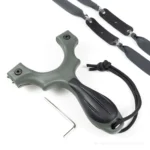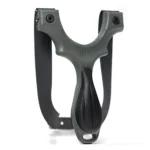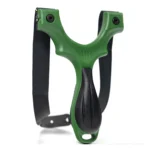 Scout X Slingshot
49,00 € inkl. MwSt.*
Lieferzeit: 1-3 Days*
The Scout X slingshot represents a new era in the world of slingshots. It combines the best of contemporary design and supreme functionality in a solid frame. With every Scout X slingshot you get a set of grip plates & clips to make sure you are always well equipped.
In 2012, SimpleShot set a real milestone with the introduction of the original Scout XT. It quickly became the favorite of many slingshot enthusiasts and has introduced countless people to the art of slingshotting.
But at SimpleShot they understand progress as a constant process. That is why SimpleShot have further developed the already excellent Scout XT. This latest model, the Scout X, is the result of an intensive collaboration between expert Mark Seljan and the SimpleShot team. Over 18 months they have analyzed customer experiences and invested everything in the further development of this outstanding slingshot.
Some of the notable features of the Scout X are:
Removable handle scales inspired by the Scout LT slingshot
Integrierte Bandbefestigungsclips, für schnellen und sicheren Halt
Versenkte Verschlüsse, die für ein schlankes Design sorgen
Faseroptische Visiereinrichtungen, für eine erhöhte Zielgenauigkeit
Ein verbesserter Halt für den Pinch-Grip, der für mehr Stabilität und Kontrolle sorgt
Während die Scout X in vielen Aspekten an ihre Vorgängerin, die Scout XT, erinnert, setzt sie mit ihrem modernen Styling und der erweiterten Funktionalität völlig neue Maßstäbe. So if you're looking for a slingshot that stands out in both design and function, the Scout X is undoubtedly the right choice for you. It's more than a slingshot – it's a statement!
Scope of delivery
1x Scout X Slingshot
2x flat bands
2x Scout X Clips
1x Scout X Scales
| | |
| --- | --- |
| Weight | 0,130 kg |
| Dimensions | 10,2 × 15,2 cm |
| Farbe | Black, Gray, Green |
| Brand | SimpleShot |
Only logged in customers who have purchased this product may leave a review.
You may also like…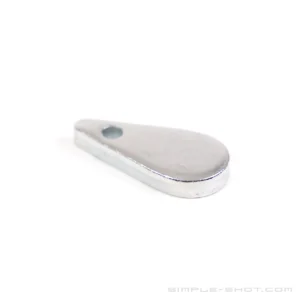 Add this 26g stainless steel grip weight to your Scout X slingshot to optimize both stability and recoil, increasing your accuracy when slingshooting. If you prefer a heavier slingshot, this precision-cut stainless steel weight is the ideal addition to your Scout X handle to improve balance and stability.
Experience ultimate comfort and enhanced performance with the removable handle shifters designed specifically for the Scout X slingshot. These high quality handle shifters are the ideal addition to your slingshot and an absolute must if you want to take your slingshot experience to the next level. Made of sturdy and durable materials, these removable handle switches will give you years of reliable use. Installation is a breeze, so you can upgrade your Scout X slingshot in minutes.
Discover our innovative strap attachment clips designed specifically for your Scout X. These clips feature flush closures for seamless integration. We've also added advanced fiber optic aiming points for even better sighting accuracy. If you're looking for a combination of high functionality and the latest technology, these clips are the ideal addition to your Scout X. Optimize your performance and make your Scout X a highly accurate tool for any kind of challenge.